Adjuntas
(ahd-HOON-tahs)

Adjuntas territory is very mountainous because the city is located on the Central Mountain range (La Cordillera Central), north of Yauco, Guayanilla and Peñuelas; southeast of Utuado; east of Lares and Yauco; and west of Ponce.
Adjuntas is known by many names, the city is commonly known as "La Ciudad del Gigante Dormido" (the city of the sleeping giant) because a mountain formation called by that name. It is also known as "La Suiza de Puerto Rico" (the Switzerland of Puerto Rico) because it's low temperatures, with an average yearly weather of 72 degrees Fahrenheit. Last but not least, "La Tierra de los Lagos" (the land of lakes) because of the many water holes in its mountainous terrain.
The town was founded in August 11, 1815 by Diego Maldonado. The name of the city comes from the term "tierras adjuntas" (adjoining lands), because their territory was part of the old Villa de San Blás de Illescas, (known today as Coamo) and often referred as "las tierras adjuntas a Coamo".
The town was home to the first Health Center in the island, founded in 1950. The first church was inaugurated in August 24, 1815.
Adjuntas has one of the highest mountain peaks on the island, Guilarte Peak (3,953 ft.), located in the Guilarte Forest. Many rivers run through and around the town, including Río Grande de Arecibo which originates in the ward Juan González, crossing the city from south to north. Other rivers include Guilarte, Tanamá, Pellejas, Vacas, Cidra and Limaní.
Points of Interest
The Museo Casa Pueblo houses a library, gallery, activity room, office and an artisan shop. Open daily, 9am-4pm, (787)-829-4842.
Tids and Bits
Adjuntas produces coffee, bananas, oranges and other fruits.
There are many well-known "adjunteños", among them:
Jesús M. Benitez, writer
Rafael de Jesús Cordero, economist and writer
Pelegrín López de Victoria, writer
Arístides Moll, physician, writer and poet
Josefina Moll, writer
Barrios (17):
View Map
Capáez
Garzas
Guayabo Dulce
Guayo
Guilarte
Juan González
Limaní
Pellejas
Portillo
Portuguez
Adjuntas Pueblo
Saltillo
Tanamá
Vegas Abajo
Vegas Arriba
Yahuecas
Yayales
Symbols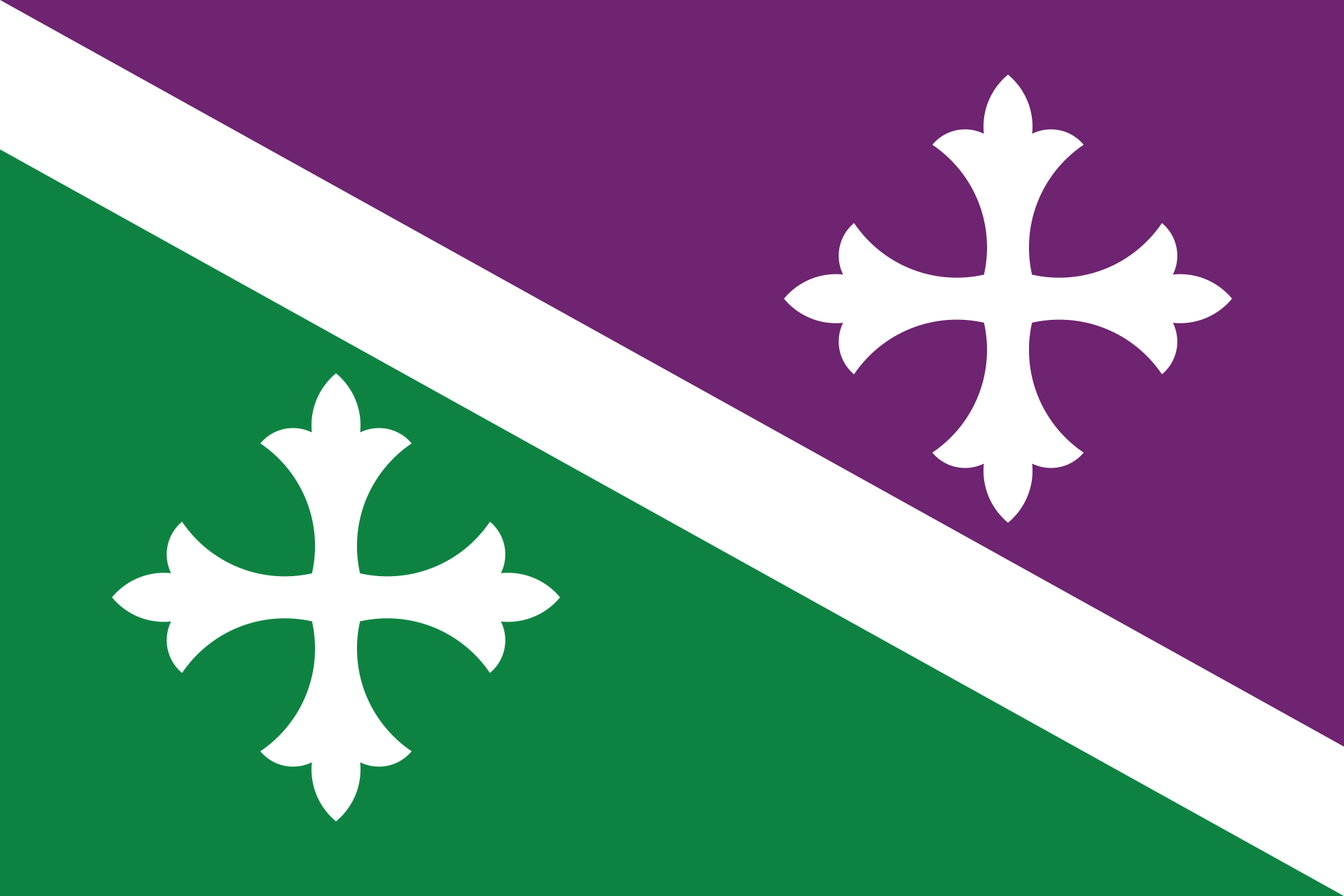 Flag
A white diagonal stripe divides the flag in two triangles. The upper one is purple, while the lower one is green. In the middle of each triangle lies a white cross known as the "Illescas cross". The cross also symbolizes Saint Joachim and Saint Ana, patrons of the town. The white color symbolizes purity, while purple represents Joachim's cloth and green the nature of the town.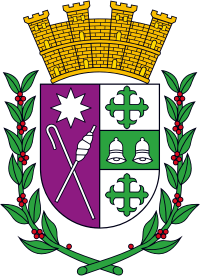 Coat of Arms
Adjuntas coat of arms includes a walking stick or crook that represents the patriarch San Joaquín, father of the Holy Virgin Mary. The distaff represents domestic work and also symbolizes Santa Ana, the mother of the Virgin Mary. The star represents the Virgin. The bells and crosses allude to the name of the town, Adjuntas. The crosses are taken from the seal of Coamo and their origins lie in the coat of arms of the Illescas lineage, which is historically related to the old village of San Blas. The coffee branches allude to Adjuntas' location in the coffee-growing region of Puerto Rico. The walled crown is a smaller version of the four towers to signify that in the Spanish era it was granted the title of "villa" by the crown.
Anthem
The anthem of Adjuntas was written by Jose Nieves Perez. The title is "Adjuntas es mi amor".
Climate
Adjuntas annual precipitation is 87 inches, and its average temperature is 72°F. Summers are warm (83°-85°F) in the daytime and mild at night time (60°-63°F). Meanwhile winters are moderately warm with cool temperatures at night, temperatures are between in the 50 °F (10 °C) and 60 °F (16 °C) range, but after cold fronts temperatures can drop down to 40 °F (4 °C).
| | |
| --- | --- |
| Land Area: | 66.69 sq mi (172 sq km) |
| Water Area: | 0.42 sq mi |
| Population: | 19,143 (2000) |
| Density: | 287.8 per sq mi (111.2 per sq km) (2000) |
| Housing Units: | 6,715 (2000) |
| Housing Density: | 100.69 (2000) |
| Per Capita Income: | $4,975 (2000) |
| Coordinates: | Latitude: 18°09'57" Longitude: 66°43'27" |
| ZIP Code: | 00601 |
| Driving Distance: | 83.4 miles (from San Juan) |
| Driving Time: | 2 hours, 3 minutes · Get Directions (from San Juan) |
What to Do and See?
Guilarte Forest Reserve
Museo Casa Pueblo
Garzas Lake
Museum Fort Count Mirasol
Cascada Las Garzas
View All
Where to Stay?
Monte Rio Hotel
Villas de Sotomayor
View All
Where to Eat?
Melos BBQ
Restaurante Las Cabañas
Restaurante Chinaton
La Hamaca Restaurant
Restaurante Star Light
View All
Festivals and Events
Festival de la Cidra - March

Festival del Gigante - March

Fiestas Patronales de San Joaquin & Santa Ana - August
Every year Adjuntas celebrates this festival to honor its patron saint. This week-long event features dances, food, parades and religious processions.
Share: