Yauco
('yau-"ko)

Yauco is known as El Pueblo del Café (coffee city). Yauco was founded in February 29, 1756 by Fernando Pacheco. Yauco derives its name from a name given by the Indians to a river close by, Coayuco River.
Yauco is located in the southern coast of the island, south of Maricao, Lares and Adjuntas; east of Sabana Grande and Guánica; and west of Guayanilla.
The surrounding areas produces sugar, coffee, tobacco, cotton and oranges. Yauco also produces textiles and other light manufactures.
There are many well-known "yaucanos", among them: Amaury Veray Torregrosa, José Enamorado Cuesta, Franciso Lluch Mora, Loaiza Cordero, Amelia Agostini, Carmelo Filardi, and Franciso Mattei.
Yauco is made up of 20 barrios (wards/districts):
Aguas Blancas
Algarrobo
Almácigo Alto
Almácigo Bajo
Barina
Caimito
Collores
Diego Hernández
Duey
Frailes
Jácana
Naranjo
Pueblo
Quebradas, Ranchera
Río Prieto
Rubias
Sierra Alta
Susúa Alta
Susúa Baja
Vegas
Things to See and Do In Yauco
Want to know what to see and do in Yauco? Discover few ideas for exploring and enjoying the city.
Festivals and Events
[an error occurred while processing this directive]
Symbols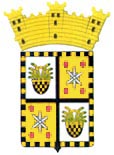 Anthem: Pueblo de gestas gloriosas...
Education
There are 28 public schools in Yauco, education is handled by the Puerto Rico Department of Education. Yauco is also home of 1 university.
Climate