Cabo Rojo
(KAH-bo, ro-ho)
Cabo Rojo is known as "El Pueblo de Cofresí" (Cofresí's town). Cabo Rojo was founded in December 17, 1771 by Nicolás Ramírez Arellano and Miguel de Muesas.
It is said that Cabo Rojo obtained its name by the considerable amount of minerals in its coasts that made the waters look reddish. Cabo means headland and rojo, means the color red.
Cabo Rojo territory is mostly flat because the city it is located on the Western Costal Valley. Bordering the Caribbean Sea, south of Mayagüez and Hormigueros; and west of Hormigueros, San Germán and Lajas. Its rivers are: Guanajibo, Cajul, Seco, Viejo and Caño Conde Avila.
The first church was inaugurated in 1783 with the name of San José.
The bay at Boquerón, part of the Municipality of Cabo Rojo, extends some 3 1/2 miles inland, sheltering over a mile of white sand bordered by clear water is wonderful for swimming and lounging. It is excellent beach for swimming.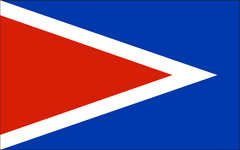 Land Area:
72 sq mi (187 sq km)
Water Area:
107.05 sq mi (277.3 sq km)
Population:
46,911 (2000)
Density:
651.5 per sq mi (250.8 per sq km)
Housing Units:
23,182 (2000)
Housing Density:
329.5 (2000)
Per Capita Income:
$8,070 (2000)
Source: 2000 Census
Driving Distance:
112.4 miles Get Directions from San Juan
Driving Time:
2 hours, 36 minutes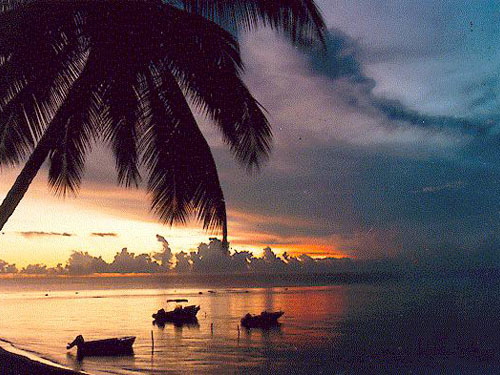 The Cabo Rojo National Wildlife Refuge, a subtropical dry forest, has a visitors center and interpretive displays as well as bird-watching trails, 50 bird species, several endangered. No camping allowed. Open Mon-Fri from 7:00am to 4:00pm (787) 851-7258.
The Cabo Rojo Lighthouse was built in 1881 over limestone cliffs that drop 200 feet into the sea. It is also known as "Faro de Los Morillos". This old lighthouse was automated and electrically charged in 1967. Spectacular views.
Anthem: Hoy estoy triste por la distancia...
Wards: Bajura, Betances, Boquerón, Guanajibo, Llanos Costas, Llanos Tuna, Miradero, Monte Grande, Pedernales, Pole Ojea, Pueblo, Puerto Real.
There are many well-known "caborrojeños", among them: pirate Roberto Cofresí y Ramirez de Arellano, writer Salvador Brau, politician Ramón Emeterio Betances y Alacán.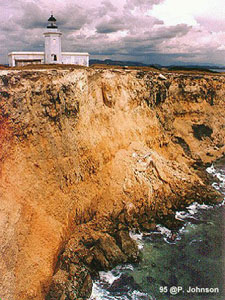 What to Do and See?
Boqueron Beach
Boqueron Forest Reserve - Carr. 307 Km 8.8, (787) 724-3647
Cabo Rojo Lighthouse - Rt 301 Km 11.5, (787) 851-1025
Cabo Rojo National Wildlife Refuge - Rt 301 Km 5.1, Box 510, (787) 851-7258
Phosphorescent Bay
Punta Arenas Beach
Punta Guaniquilla Reserve
Where to Eat?
Agua al Cuello - Rd. 301 Km 11.5 Bo. Boqueron, El Faro Sector (Parador Bahia Salinas), (787) 254-1212.
El Bohio - Route 102, Km 13.9, (787) 851-2755. A local favorite and informal restaurant, serving steaks and a variety of seafood, all cooked to order.
Restaurant Cuesta Blanca - Carr.307 KM 5 H 8, Boqueron, (787) 851-6899. Specializes in fresh sea food.
Festivals and Events
Festival del Pescao - March
Festival del ChigŁero - April
(787) 851-1025. The town's plaza is decorated to look like the 1940's.
Jornada a Betances - April
(787) 851-1025. Commenmorates the birth of Dr. Ramon Emeterio Betances. 19th century abolitionist and independence leader.
Tejido de Sombreros - May
Festival del Ostion - May
Cruce Bahia Boqueron - July
Retorono a la Arena - July
Festival del Melon - July
Fiestas Patronales de San Miguel Arcangel - September
(787) 851-1025. Every year, Cabo Rojo celebrates a patron saint festival. The festivities include dances, food, parades and religious processions.
Festival de la Paleta - December
Festival Le Lo Lai - December
Climate
Share: