Arroyo
(ah-RO-yo)

Arroyo is located in the region known as the Southern Coastal Valley, a very dry region. Bordering the Caribbean Sea, east of Guayama and northwest of Patillas. Arroyo's highest peaks are Yaurel (686 m), Corazón (605 m), and Ancones (270 m).
Chiriopolis in Arroyo (Photo: Fernando L. Pacheco)
Arroyo is known as Pueblo Ingrato-Pueblo Grato. The town was founded in December 25, 1855. Arroyo ("creek" in English) derives its name from the small stream from which weary travelers in the past stopped for a drink of water and to rest.
Points of Interest
Punta Guilarte Beach is considered one of the most beautiful beaches on the island.
Arroyo's Hospital Lafayette is one of the oldest private hospitals in the southeast of the island.
The surrounding areas produce sugar cane.
There are many well-known "arroyanos", among them:
Francisco J. Amy
Marcelina Cintrón
José Manautou Fantauzzi
Juan B. Huyke, writer and politician
Enrique Huyke
Galio Ortíz
José Ramón Quiñones
Arroyo is made up of 6 barrios (wards/districts):
Ancones
Guásima
Palmas
Pitahaya
Pueblo
Yaurel
Things to See and Do In Arroyo
Want to know what to see and do in Arroyo? Discover few ideas for exploring and enjoying the city.
Festivals and Events
[an error occurred while processing this directive]
Symbols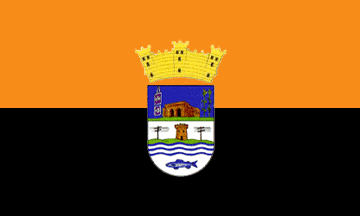 Flag
It has two horizontal bands of equal size. The orange and black colors keep alive a past filled with adventure and accomplishment. The Coat of Arms is placed in the center of the flag.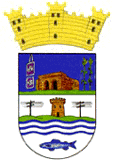 Coat of Arms
Cut into the upper blue field a church, a rosary to the right and a flower to the left. At the base, a tower between two silver telegraph poles on green hills. At the bottom waving stripes of blue and silver, and below these, a fish. Above the shield, lies a crown of three towers filled in with purple. Below there's a banner with the motto, Arroyo Pueblo Grato (Arroyo Pleasing Town).
Anthem: Arroyo
Education
There are 10 public schools in Arroyo, education is handled by the Puerto Rico Department of Education. Arroyo is also home of 2 colleges and universities.
Climate