Florida
(flo-REE-dah)

Florida is known as "La Tierra del Río Encantado" (land of the enchanted river). Originally known as Florida Afuera and belonging to Manatí, Florida was founded in 1971. This town derives its name from the flowers and natural resources that grows in its fields.
Florida is located north of Utuado and Ciales; south of Barceloneta; east of Arecibo; and west of Manatí.
Florida was the last founded municipality in Puerto Rico.
There are many well-known "florideños", among them: Francisco Frías.
Florida is made up of 2 barrios (wards/districts): Florida Adentro and Pueblo.
Things to See and Do In Florida
Want to know what to see and do in Florida? Discover few ideas for exploring and enjoying the city.
Festivals and Events
[an error occurred while processing this directive]
Symbols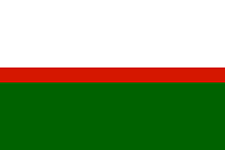 It consists of three horizontal stripes, with the following colors and widths: green the superior and white the inferior, with five modules of width each one, the center one red, with a width of one module.
Anthem: Florida jardín hermoso...
Education
There are 5 public schools in Florida, education is handled by the Puerto Rico Department of Education.
Climate